Size Table
The tables below are intended to help you assess which size is best suited to your needs.
Next to our sizes are the standard child sizes (listed under "age") and adult (shown under "Italian size") and also the main measures to understand these distinctions.
All clothing sizes are expressed in centimeters.
Orders not made through the site but sent by email (exclusively for schools and retailers) will always have to show only the Irene Correnti Danza reference sizes and, in the case of children, even the age. Will not be taken into consideration any other measures reported (eg: egg loop, hips, etc.) since the realization of our clothing takes place according to standard measures and not "made to measure".
Also with regard to academics, skirts, degas and free time clothing, the various measures indicated starting from the navel correspond to the standard lengths used by us and are reported solely to facilitate the choice of the most correct size.
All indications have value both for child sizes and for adult sizes.
Custom sizes
Our company provides the possibility of a tailor-made service that provides additional costs compared to standard prices. For more information contact us by phone or e-mail.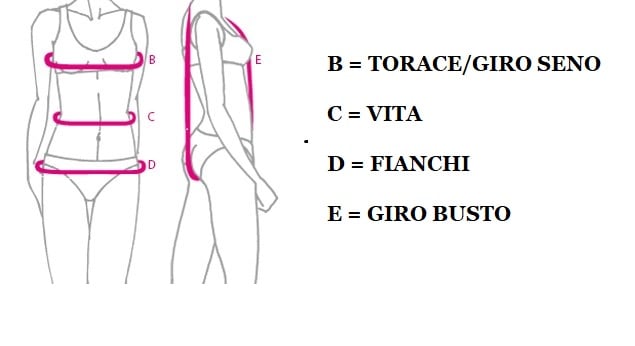 LEOTARDS-ACADEMIC SUITS-BODICE-JACKETS
CHILD

 I.C. DANZA SIZE

AGE

HEIGHT

CHEST

WAIST

HIPS

GIRTH

00°

2/3 

80-90

50-54

42-46

48-52

80-86

0°

3/4 

90-100

54-58

46-48

52-56

86-92

1°

4/5 

100-110

58-62

48-50

56-60

92-98

2°

6/7 

110-120

60-64

52-54

58-62

98-104

3°

8 

120-130

64-68

54-56

64-68

104-110

4°

9 

130-140

66-70

56-58

66-70

110-116

5°

10 

140-145

70-74

58-60

70-74

116-122
WOMAN

I.C. DANZA SIZE

ITALIAN SIZE

HEIGHT

CHEST

WAIST

HIPS

GIRTH

XS

38/40

155-160

82-86

60-64

84-88

130-140

S

40/42

160-165

86-90

64-68

88-92

140-150

M

42/44

165-170

90-94

68-72

92-96

150-160

L

44/46

170-175

94-98

72-76

96-100

160-165

XL

46/48

175-180

98-102

76-80

100-104

165-170

XXL

48/50

175-180

102-106

80-84

104-108

165-170
 SKIRTS-TUTULETTES-PANTS
CHILD

I.C. DANZA SIZE

AGE

WAIST

 STANDARD

BELLY/




MIDDLE THIGH

BELLY/KNEE

BELLY/




MIDDLE CALF

BELLY/HANKLE

00°

2/3 

42-46

0°

3/4 

46-48

1°

4/5 

48-50

2°

6/7 

52-54

3°

8 

54-56

4°

9 

56-58

5°

10 

58-60
WOMAN

I.C. DANZA SIZE

ITALIAN SIZE

WAIST

 STANDARD

BELLY/MIDDLE THIGH

BELLY/KNEE

BELLY/




MIDDLE CALF

BELLY/HANKLE

XS

38/40

60-64

S

40/42

64-68

M

42/44

68-72

L

44/46

72-76

XL

46/48

76-80

XXL

48/50

80-84
WARM UP SIZES TABLE
CHILD

WOOL

COTTON

I.C. DANZA SIZE

AGE

LEOTARD SIZE

I.C. DANZA SIZE

AGE

LEOTARD SIZE

1°

4/5 

1°

 

0

3/4 

00/0

2°

6/7 

2°

 

1°

4/5 

1°

3°

8 

3°

 

2°

6/7 

2°

4°

9 

4°

 

3°

8 

3°

5°

10 

5°

 

4°

9 

4°

 

 

 

 

5°

10 

5°
WOMAN

WOOL

COTTON

I.C. DANZA SIZE

ITALIAN SIZE

LEOTARD SIZE

I.C. DANZA SIZE

ITALIAN SIZE

LEOTARD SIZE

S

38/42

XS/S

 

S

38/42

XS/S

M

42/44

M

 

M

42/44

M

L

44/48

L/XL

 

L

44/48

L/XL
COLLANT
CHILD

I.C. DANZA SIZE

AGE

HEIGHT

1°

4-6 

88-124 CM

2°

7-8 

109-136 CM

3°

9-10 

118-152 CM

4°

11-14 

129-170 CM
WOMAN

I.C. DANZA SIZE

ITALIAN SIZE

HEIGHT

1/2

38/42

150-165 CM

3/4

42/46

165-178 CM
DANCE SHOES SIZES TABLE
POINTE MARGOT

ITALIAN SIZE

33

34

35

36

37

38

39

40

41

42

 

 

 

 

 

 

 

 

 

I.C. DANZA SIZE

33

34

35

36

37

38

39

40

41

42

 

 

 

 

 

 

 

 

 

 

 

 

 

 

 

 

 

 

 

 

 

 

 

 

 

 

 

 

 

SOFT SHOES CANVASS/LEATHER

ITALIAN SIZE

24

25

26

27

28

29

30

31

32

33

34

35

36

37

38

39

40

41

42

I.C. DANZA SIZE

24

25

26

27

28

29

30

31

32

33

34

35

36

37

38

39

40

41

42

 

 

 

 

 

 

 

 

 

 

 

 

 

 

 

 

 

 

 

JAZZ SHOES

ITALIAN SIZE

28

29

30

31

32

33

34

35

36

37

38

39

40

41

42

 

 

 

 

I.C. DANZA SIZE

28

29

30

31

32

33

34

35

36

37

38

39

40

41

42

 

 

 

 

 

 

 

 

 

 

 

 

 

 

 

 

 

 

 

 

 

 

 

SNEAKERS

ITALIAN SIZE

33

34

35

36

37

38

39

40

41

42

43

44

45

 

 

 

 

 

 

I.C. DANZA SIZE

34

35

36

37

38

39

40

41

42

43

44

45

46