Size Chart
Below is our size chart valid for orders of women's le otards and girls' leotards, tutus and show costumes, tutulettes and skirts, ball gowns, tights and footwear.
All clothing measurements shown in the size chart are in centimeters.
Orders not placed through the site but submitted by email (exclusive to dance schools and retailers) should always state only the Irene Correnti Danza reference sizes and, in the case of girls, age as well.
Custom sizes
Our company also provides the option of a custom tailoring service, which involves additional costs over standard prices.
For more information contact us by phone or e-mail.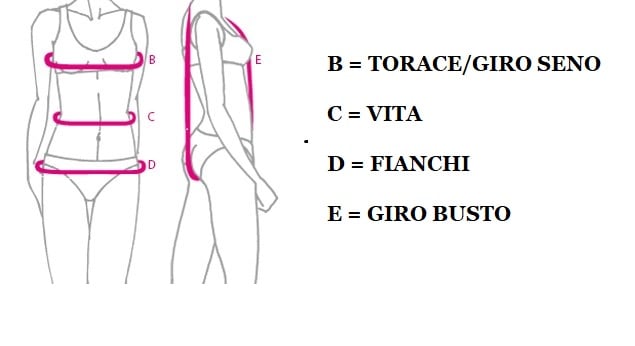 BODY-ACADEMICS-CORPETS-JACKETS
CHILD

SIZE I.C. DANCE

AGE

TOTAL HEIGHT

TORACE

LIFE

HIPS

GIRO BUSTO

00°

2/3

80-90

50-54

42-46

48-52

80-86

0°

3/4

90-100

54-58

46-48

52-56

86-92

1°

4/5

100-110

58-62

48-50

56-60

92-98

2°

6/7

110-120

60-64

52-54

58-62

98-104

3°

8

120-130

64-68

54-56

64-68

104-110

4°

9

130-140

66-70

56-58

66-70

110-116

5°

10

140-145

70-74

58-60

70-74

116-122
WOMAN

SIZE I.C. DANCE

ITALIAN SIZE

TOTAL HEIGHT

TORACE
(BREAST TURN)
LIFE

HIPS

GIRO BUSTO

XS

38/40

155-160

82-86

60-64

84-88

130-140

S

40/42

160-165

86-90

64-68

88-92

140-150

M

42/44

165-170

90-94

68-72

92-96

150-160

L

44/46

170-175

94-98

72-76

96-100

160-165

XL

46/48

175-180

98-102

76-80

100-104

165-170

XXL

48/50

175-180

102-106

80-84

104-108

165-170
SKIRTS-TUTULETTE-PANTS
CHILD

SIZE I.C. DANCE

AGE

LIFE

STANDARDS

OMBELIC/
MID-COAST
OMBELIC/
BELOW THE KNEE
OMBELIC/
MID-CALF
OMBELIC/
ANKLE

00°

2/3

42-46

13

16,5

26

32

44

0°

3/4

46-48

15

18,5

28

34

46

1°

4/5

48-50

17

20,5

32

38

53

2°

6/7

52-54

19

22,5

36

43

59

3°

8

54-56

21

24,5

40

48

66

4°

9

56-58

23

26,5

45

55

75

5°

10

58-60

25

28,5

49

60

81
WOMAN

SIZE I.C. DANCE

ITALIAN TG

LIFE

STANDARDS

OMBELIC/
MID-COAST
OMBELIC/
BELOW THE KNEE

OMBELIC/
MID-CALF

OMBELIC/
ANKLE

XS

38/40

60-64

25

30

53

66

86

S

40/42

62-68

26

32

57

70

90

M

42/44

68-72

28

34

61

74

94

L

44/46

72-76

31

37

65

78

98

XL

46/48

76-80

32

39

69

82

100

XXL

48/50

80-84

33

41

69

82

100
HEART HEATER
CHILD

WOOL

COTTON

SIZE I.C. DANCE

ETA

EQUIVALENT BODY SIZE

SIZE I.C. DANCE

ETA

EQUIVALENT BODY SIZE

1°

4/5

1°

0

3/4

00/0

2°

6/7

2°

1°

4/5

1°

3°

8

3°

2°

6/7

2°

4°

9

4°

3°

8

3°

5°

10

5°

4°

9

4°

5°

10

5°
WOMAN

WOOL

COTTON

SIZE I.C. DANCE

ITALIAN SIZE

EQUIVALENT BODY SIZE

SIZE I.C. DANCE

ITALIAN SIZE

EQUIVALENT BODY SIZE

S

38/42

XS/S

S

38/42

XS/S

M

42/44

M

M

42/44

M

L

44/48

L/XL

L

44/48

L/XL
TIGHTS
CHILD

SIZE I.C. DANCE

ETA

TOTAL HEIGHT

1°

4-6 YEARS

88-124

2°

7-8 YEARS

109-136

3°

9-10 YEARS

118-152

4°

11-14 YEARS

129-170
WOMAN

SIZE I.C. DANCE

ITALIAN SIZE

TOTAL HEIGHT

1/2

38/42

150-165

3/4

42/46

165-180
FOOTWEAR
MARGOT POINTS

ITALIAN SIZE

33

34

35

36

37

38

39

40

41

42

SIZE I.C. DANCE

33

34

35

36

37

38

39

40

41

42

CANVAS/LEATHER HALVES

ITALIAN SIZE

24

25

26

27

28

29

30

31

32

33

34

35

36

37

38

39

40

41

42

SIZE I.C. DANCE

24

25

26

27

28

29

30

31

32

33

34

35

36

37

38

39

40

41

42

HIGH AND LOW JAZZ

ITALIAN SIZE

28

29

30

31

32

33

34

35

36

37

38

39

40

41

42

SIZE I.C. DANCE

28

29

30

31

32

33

34

35

36

37

38

39

40

41

42

I.C. SNEAKERS AND I.C. SPORTS

ITALIAN SIZE

33

34

35

36

37

38

39

40

41

42

43

44

45

SIZE I.C. DANCE

34

35

36

37

38

39

40

41

42

43

44

45

46